Rice Packaging Inspection Solution
Product introduction
  Based on the production line processes, Inovance Vision developed the vision inspection solution for the rice packaging line, which covers code spraying inspection, rice leakage inspection, sealing inspection, and vacuum package inspection. This greatly improves the automation degree of the rice packaging line and product quality.
Production line diagram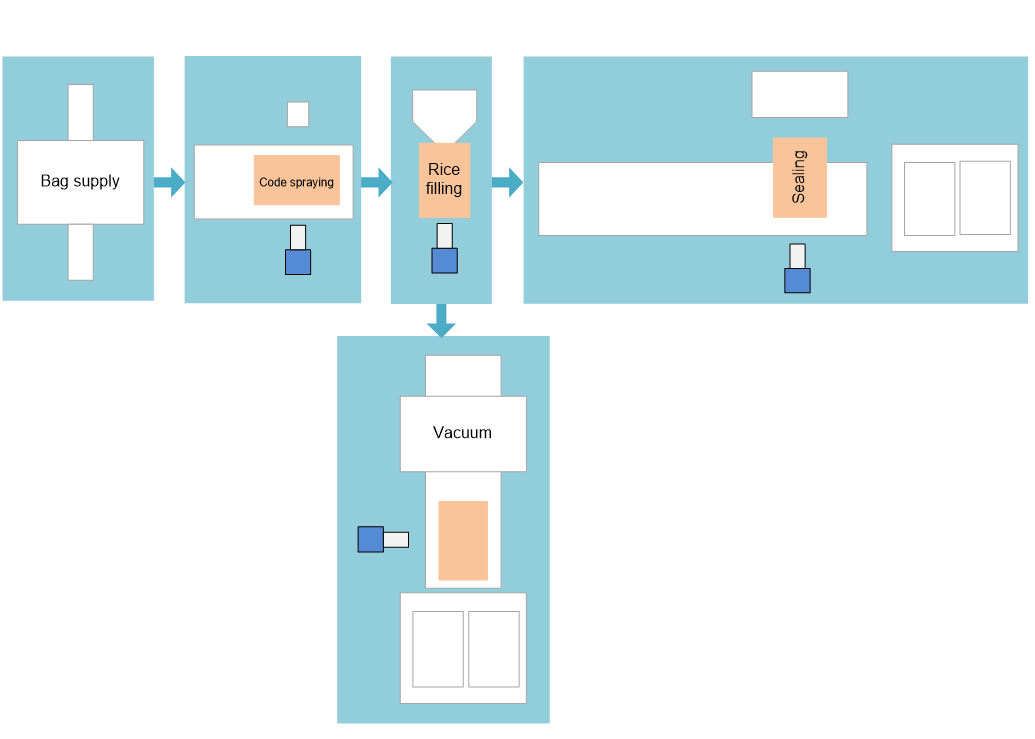 Inspection items

● Whether the code exists and the code content

Inspection indices

Picture photographed by the code spraying camera

Code spraying inspection effect picture
● Rice leakage
| | |
| --- | --- |
| Rice leakage inspection effect picture | |
● Line missing/omission
Picture photographed by the line omission

Line omission inspection effect picture

Picture photographed by the line missing

Line missing inspection effect picture
Advantages
  High accuracy:
  1) Most accurate full character recognition in the industry, with a recognition rate above 99.98%
  2) The accuracy of dimension measurement is in the subpixel level.
  High stability:
  1) The comprehensive error rate is less than 1/1000 and the single error rate less than 3/10000 during the continuous running of the code spraying inspection system.
  2) The repeatability of dimension measurement is smaller than one pixel.
  Wide range:
  1) The code spraying inspection supports the background of various colors.
  2) The rice leakage inspection, vacuum packaging, and sealing inspection supports the samples of different sizes.
Value
  1. Changes the traditional inspection method from sampling inspection to full inspection
  2. Full character inspection can not only detect the presence of the sprayed code but also recognize the correctness of each character
  3. Monitors the rice leakage in real-time, avoiding loss
  4. Numerically reflects the vacuum package, enabling more accurate identification of vacuum leakage
  5. Monitors the sealing status in real-time, ensuring timely elimination of defective products
  6. Greatly improves the pass rate of products
  7. Provides the inspection solution for the whole packaging line, greatly enhancing the product competitiveness
  8. High return on investment, with an average investment payback period of 12 months for each system